More about our collaboration around volcanic risk!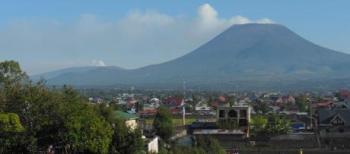 Join us at the UNESCO IGCP 692 webinar on the 5th of May, at 9 a.m. (CEST). Register here.
2021-05-03
The long way towards volcanic risk reduction in the Kivu region (DRC-Rwanda border) 
Sharing experience of an international collaboration  
F. Kervyn1, A. Muhindo Syavulisembo2, J. Barrière3, N. d'Oreye3,4, B. Mafuko1,5,7, J. Makundi6, C. Michellier1, B. Smets1,5, J. Subira1,2,8 
1 Royal Museum for Central Africa, Belgium  
2 Goma Volcano Observatory, DR Congo  
3 European Center for Geodynamic and Seismology, G-D Luxemburg
4 National Museum of Natural History, G-D Luxemburg  
5 Vrije Universiteit van Brussel, Belgium  
6 Protection Civile du Nord-Kivu, DR Congo  
7 Université de Goma, DR Congo 
8 Université de Liège, Belgium  
On the morning of January 17, 2002, the Nyiragongo volcano, which dominates the city of Goma, on the border between the Democratic Republic of Congo and Rwanda, entered into eruption. With only one historical eruption in 1977 and in a disturbed political situation, the lack of preparation of the population and the authorities quickly evolved into a chaotic situation. The poorly equipped Volcano Observatory was unable to convince the authorities of the emergency and contradictory communications resulted in the population evacuating the city in disorder to neighboring Rwanda under the coordination of humanitarian agencies. International aid followed this event to support reconstruction and strengthen the Volcano Observatory. In 2005, the Royal Museum for Central Africa (RMCA) and the Observatory entered into collaboration to develop tools to improve monitoring capabilities. Following the success of remote sensing techniques, networks of instruments were deployed on the ground in partnership with the Luxembourg Museum of Natural History (MNHN) and the European Centre for Geodynamics and Seismology (ECGS). Today, the joint exploitation of different techniques allows a better understanding and monitoring of the volcano but faces the challenge of sustainability. In parallel to the study of hazards, the RMCA's collaboration has extended to other aspects involving the Observatory but also other partners such as the Civil Protection of North Kivu with whom awareness tools for the population are developed. The Civil Protection, in its desire to improve the response in the event of a new crisis, has launched, with the help of its MRAC, ECCAS, WFP, MONUSCO, CORDAID and World Bank partners, the development of contingency and evacuation plans involving the political authorities of the DR Congo and Rwanda.