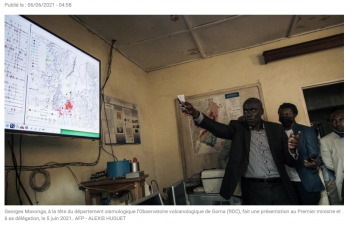 MRAC-MNHN-ECGS scientists facing defamatory and unfounded accusations after the 2021 eruption of Nyiragongo volcano.
2021-09-15
On 22 May 2021 around 18:30 local time, Nyiragongo volcano erupted without precursory signals. The modern telemetered monitoring networks that were perfectly operational, assisted with numerous satellite data, allowed to follow the evolution of the situation in real time with a quality and accuracy never reached in the Virunga before, at the same level of what is done at other densely monitored volcanoes in the world.
However, despite this undeniable scientific success, violent attacks against the management committee of GVO and the Belgo-Luxembourgian consortium, but also indirectly against the GVO supervisory authorities, were launched by two letters from the GVO union. These documents, containing extremely serious defamatory allegations not supported by any evidence, were quickly relayed on social networks and in the local and international press, including an article published in the renowned Science Magazine.
The document "Failure of a success" hereby answers to these unfounded accusations with factual and verifiable supporting evidence. This document was originally sent with the accompanying executive summary to the Congolese authorities as well as the recipients of the initial accusation letters. A French version is also available here.